Our farmer partners don't just provide organic milk - they are stewards of the lands and open spaces in our community.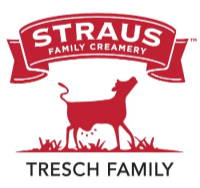 The Tresch family has been part of the California dairy community since the 1870s when the family immigrated to the area from Switzerland. Today, Joe and Kathy Tresch are continuing the tradition alongside their children.
The family's herd of 750 Holstein and Jersey cows graze on 2,500 acres of beautiful, hilly, and herbicide-free pastures of Sonoma County. The herd's milk goes into Cowgirl Creamery's cheeses as well as every delicious bottle of Straus Family Creamery (sold in reusable glass bottles across California).



The gorgeous landscape of Tomales Bay in West Marin is the home of Bivalve Dairy. Owned and operated by John and Karen Taylor since 2006, Bivalve is an organic-certified, pasture-based farm that provides the milk from many of Cowgirl's cheeses including our iconic Red Hawk.
Karen grew up on the farm and learned dairying from her parents. In fact, her family's dairying roots go back six generations. That innate knowledge alongside her husband John's engineering background have been vital to ensuring both the cows and land thrive.
Bivalve's 200 Holstein cows access the 700 acres through a rotational grazing system. The land itself is maintained through a variety of sustainable and regenerative practices: Re-seeding the land with a no-till drill, collecting winter rain run-off to water during the dry season.