Friends Sue Conley and Peggy Smith took a hippie trip to San Francisco in 1976 after graduating from the University of Tennessee. The food revolution was taking off - Bay Area restaurants and businesses sparked the organic and farm to table movements that would come to define American food culture.
Both established careers in some of San Francisco's most famous kitchens: Peggy spending 17 years at Chez Panisse, and Sue co-owning Bette's Oceanview Diner in Berkeley.
Peggy and Sue both had a passion for the food producers in the North Bay, seeing parallels between them and European food artisans whose products were honored and protected. Through her work at Chez Panisse, Peggy was able to taste and learn from Jean Piere Mouile and master affineurs (artisans specialized to age cheese) Jean and Pascale D'Alos as well as the dynamic team from Neal's Yard Dairy in London.
By the early 1990s, Peggy and Sue were ready for a new challenge. They found it in Pt. Reyes Station, a picturesque postage-stamp-of-a-town on the coast about an hour north of San Francisco. With their first-hand knowledge of the restaurant business, they launched a wholesale distribution business, Tomales Bay Foods, to help West Marin's farms and dairies get their delicious products into the hands of the Bay Area's finest chefs.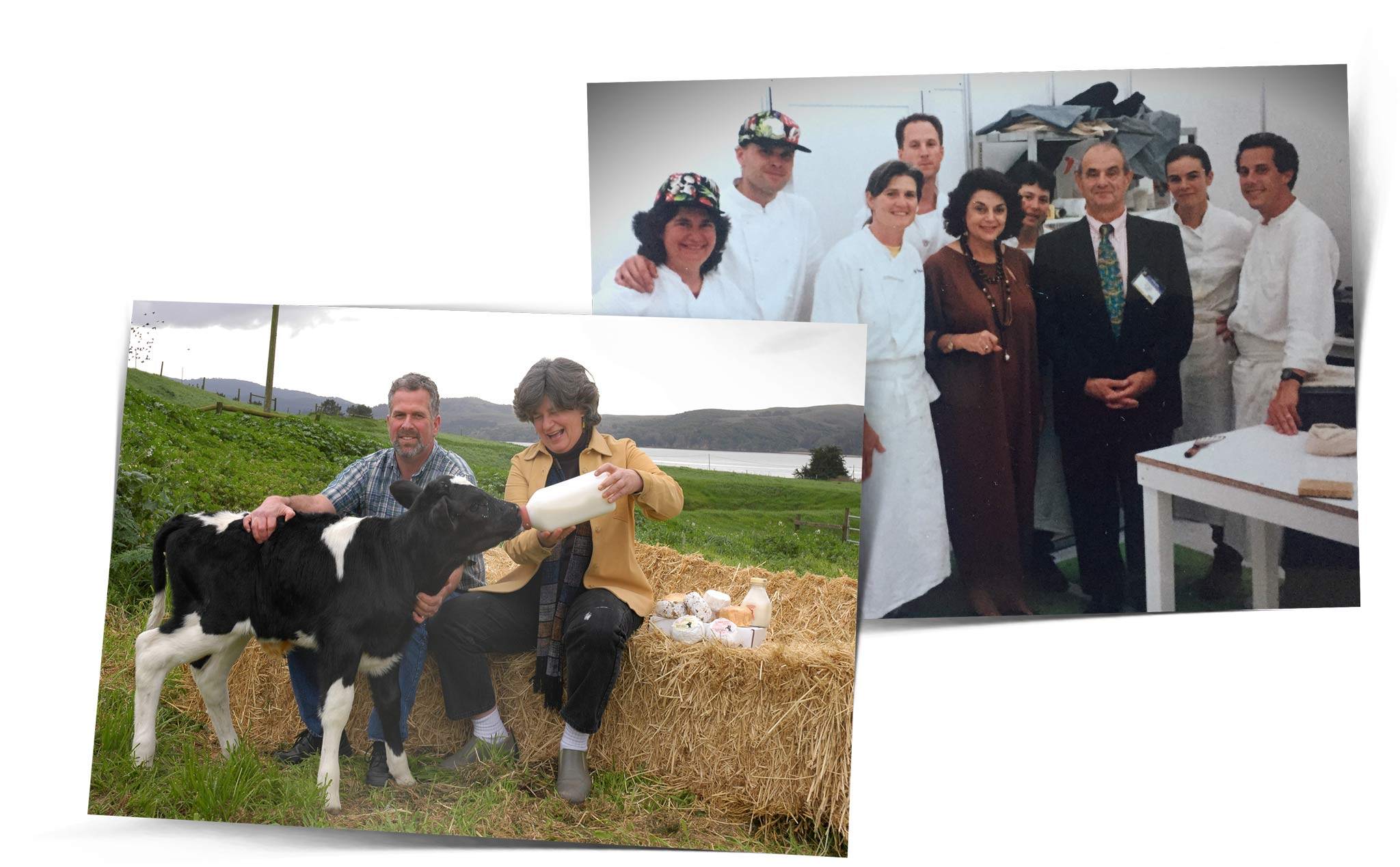 "Our products reflect the bounty of Marin County, and support the viability of local agriculture." - Peggy Smith
Their headquarters, a renovated hay barn in downtown Point Reyes (one of our current cheese shop and cafe locations), featured a small cheesemaking room. Their friend and mentor (and honorary Cowgirl) Ellen Straus, matriarch of the founding family of Straus Family Creamery, convinced them to start making cheese. Using Straus milk, they began making delicious fresh cheeses: Fromage Blanc, Creme Fraiche, and Clabbered Cottage Cheese to sell at Farmers Markets, local restaurants, and eventually in specialty cheese stores, and Whole Foods Markets.
Since then, they've created award-winning organic cheeses including the iconic Mt. Tam and Red Hawk, opened retail stores and cafes (including our two current locations in the Ferry Building and Point Reyes Station) across the country, published a beautiful cookbook, and served in trade and community organizations on behalf of specialty cheese and the organic agricultural movement.
In 2016, they passed the torch to Emmi, a Swiss dairy company, that advises Cowgirl Creamery's passionate team (including some of the original people Sue and Peggy hired).
Sue and Peggy still work tirelessly to champion causes on behalf of the Marin Agricultural Land Trust (MALT), the American Cheese Society, and other organizations.